Wolfgang Tillmans + Mingering Mike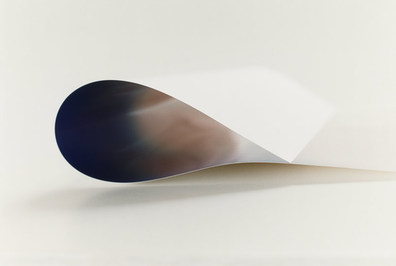 Wolfgang Tillmans, paper drop (Roma), 2007
The Washington City Paper • June 8, 2007By Jeffry Cudlin
Visitors to the Hirshhorn who aren't familiar with Wolfgang Tillmans will likely ask themselves: Who does this guy think he is? The German-born photographer has worked as a portraitist, an abstractionist, and a conceptualist without getting attached to any one way of operating. As a result, the new retrospective of nearly 20 years of Tillmans' work veers all over the place, featuring club scenes of sweaty, shirtless young men with close-cropped hair, didactic political statements made from newspaper clippings, and huge, heroic abstract experiments with color and line. In all of his works, Tillmans likes to cultivate visual noise, blowing up Polaroids, found newspaper photos, and faxes in order to create grainy, blurry images that look like tourist snapshots—or spidery bursts of dark wandering lines against monochrome backgrounds.
Traditionalists can expect to be offended by Tillmans' disregard for technique and by his unusual presentation. Most of his pictures are unframed, attached to the wall with binder clips and nails or with strips of Scotch tape. Ranging in size from 6 inches square to 8 feet tall, his pictures are placed at eye level, down near the floor, and above the viewer's head—Tillmans arranged them himself and apparently likes to put some photos just far enough away to be hard to see. Conservatives will bristle at cheeky homoerotic pictures of soldiers, a bleak memorial for the victims of organized religions, and a video installation that is basically an empty dance club. Who is Tillmans? Surely he's just another postmodern prankster toying with his audience's expectations.
But Tillmans is in earnest. Though his subjects can seem randomly chosen—his 2003 Tate Britain show was called "If One Thing Matters, Everything Matters"—there's nothing in this show that isn't carefully considered and keenly felt. Tillmans cultivates an offhand look in his work, but at every turn, he has employed dodges, second guesses, and strategies of inversion to complicate his relation to both photography and the world around him.
"What I like to get to," Tillmans said in a recent interview with Hirshhorn assistant curator Kristen Hileman, "is a sense of connection with the viewer, so that the viewer doesn't look for my personal life and narrative in these installations but is feeling connected to individual points in what they see....If a point of contact like that happens, that is like a moment of solidarity between people that I look for."
That search for connection led Tillmans to take portraits of friends and acquaintances. In the case of "Richie Hawtin" (1994), the Canadian DJ and electronic musician (aka Plastikman) sits in a shadowless space filled with warm diffuse light. He has a clean-shaven head, tattoos, and thin wire-rimmed glasses. He sits in what looks like a Boomer family room, perched on the edge of an orange cabinet; hovering around his head and shoulders is a flock of old family photos in thin wooden frames. On the mantel, there's a little toy cannon; to his left, a doll is angled toward him, as if observing him with interest.
It's a personal and disarmingly direct portrait—and also a sociological study, revealing an utterly conventional lower-middle-class upbringing, with every detail evenly illuminated. As he does in so many of his portraits, Tillmans insists on a feeling of intimacy while at the same time relying on a seemingly neutral, minimal documentary style, one that devalues photography's possibilities for romantic expression.
That approach has earned Tillmans criticism for exploiting a "snapshot aesthetic." But not all of his portraits take on the look of disinterested documentary. In "Blood Dancer" (1992), a young man's torso emerges from the darkness; his hair and dark jeans disappear into the surrounding black space. The man is grinning, but he appears uneasily propped up; a disembodied hand clasps his, helping him remain vertical. Streaks of red fluid dash down from his shoulder, across his chest and abdomen.
Though Tillmans is usually hesitant to draw parallels between his photos and paintings, there's a clear affinity here with Caravaggio—with the flesh of some holy figure emerging from darkness, lit by one low unnatural light source. This may be a secular subject, but it's treated with a sort of transcendent wonder, as if Tillmans is extolling the transformative power of club culture. Similarly, in the middle of a cluster of photographs of the Hagia Sophia—a towering, imposing ancient cathedral— Tillmans includes one of a line of patrons waiting outside a Berlin disco, the Snax Club. The artist makes a shrine to personal liberation interchangeable with a more traditional temple.
Tillmans' critique of people who claim to have a hold on universal truth—Christian fundamentalists, Islamic fundamentalists, creationists—is the basis for "Truth Study Center," an installation piece consisting of 23 wooden tables covered with photographs and news clippings. These clippings include stories about the persecution of gays and about the disavowals of scientific facts by Third World leaders. A riot of conflicting voices and ideas are presented. Yet for Tillmans, there are clear correct answers in the cacophony about how to live with one's fellow humans. Those answers aren't systematized or readily available, though; they must be discovered, instance by instance, through first-hand contact with the world, and trial and error—in much the same way Tillmans makes art.
Some of Tillmans' most visually striking images might seem to have the least to do with these sorts of ideas. His abstract pieces are typically experiments with photosensitive papers or shots of these same large glossy rectangles of color hanging, sagging, or warping away from blank white walls. The results can appear crisp, remote, and impersonal. But these large sheets of drooping colored paper, despite their heroic scale, reflect Tillmans' concern with the existential and ephemeral. The dots and thin tendril-like lines in "Freischwimmer 83" (2005), for example, look more like body hair than an ab exer's automatic drawing—akin to Tillmans' close-ups of isolated body parts, such as armpits and genitals. In "Paper Drop (white)" (2004), a piece of glossy white paper cuts diagonally into the frame from the lower right-hand corner into the center, then traces a languid arc up to the top right. The work seems to comment on the pristine white-cube environment of most galleries or about minimalist abstract painting—until you notice how pockmarked and scored the plain white wall filling the rest of the picture is or stop to observe just how subject to the forces of humidity and gravity that subtly curving plane of paper is. These are not timeless images but arrangements that are ready to fly apart, degrade, or vanish at a moment's notice. They suggest the frailty of stylistic currency and of bodies and a new relationship with abstraction and materials—one that's more immediate and accessible.
Perhaps Tillmans' take on abstraction is best revealed in "Lights (Body)" (2000-2002), a video installation featuring static shots of the light effects inside an empty dance club. Mirrors rotate, casting colored beams of light around the room in time with the bass pulse of the minimalist techno soundtrack. It recalls the early modern light and sound experiments featured in "Visual Music," the Hirshhorn's 2005 show on synesthesia. But here Tillmans suggests something far more humble, accessible, and human—this is rigid, spare stuff, but it provides a backdrop for pleasure and self-exploration.
It's a very tricky balance, playing with the conventions of a shared visual culture—one that tends to value ideas and shorthand notations over messy day-to-day life—but always insisting on the supremacy of sensation, an individual's unmediated sensuous experience of the world. Tillmans manages it with style and good humor.
Mingering Mike is sincere about his desire to connect, too, but he's nowhere near as scattered as Tillmans. From the creation of his first album, "Sit'tin by the Window," in 1968, to the release of the soundtrack for his career-capping 1976 road picture, "The Road to BimBombay," the quiet, unassuming man from Northeast D.C. relentlessly pursued soul-music superstardom, producing and designing album after album by himself and by various members of his family, under a slew of imprints all run by the artist himself. His album covers, currently on view at Hemphill, were drawn and lettered by hand in a crude yet exuberant style; in them, Mingering Mike exhibits a striking visual inventiveness, a strong desire for social justice, and a lot of quirky humor.
A review of Mingering Mike's liner notes might convince the viewer that he did indeed make his mark on the entertainment industry. Jack Benny is quoted enthusiastically endorsing Mike on the back of his debut album, calling him "a bright and intelligent young man with a great, excitting [sic] future waiting him." A curious quote from James Brown graces his second record, "Can Minger Mike Stevens Really Sing?" Under a large black-and-white photo of the young, smiling singer, Brown offers a near-haiku: "With a look of success/Singing and Dancing/Boy he's a mess."
What sort of dynamic personality could bring both James Brown and Jack Benny into his orbit? Well, none: Mike's career was all in his head. If you could pull out one of the Mingering Mike records currently crowding a long narrow shelf at Hemphill, you'd discover that it's unplayable. They're made out of cardboard, not vinyl; what might appear to be grooves are often rings of nail polish and spray paint.
From 1970, when he went AWOL from the Army, to 1977, when President Carter pardoned draft dodgers from the Vietnam War, Mingering Mike (who's never publicly disclosed his real name) mostly stayed home, assembling his elaborate album covers, coming up with ideas for movies and, sometimes, recording actual music. By the time he left his imaginary career for a full-time job as a security guard, he'd created more than 50 albums and as many or more singles.
Dori Hadar was understandably baffled when he first encountered the artist's work. Hadar, a DJ, part-time criminal investigator, and author of a new book, "Mingering Mike: The Amazing Career of an Imaginary Soul Superstar," was rummaging through boxes of records in a D.C. flea market when he stumbled across a slew of Mingering Mike LPs. Hadar was stunned by the sheer volume of material, the number of imprints, and the fact that everything looked so obviously handmade.
Even Mike's name seemed strange, and for good reason: "At first I was thinking 'Mingling Mike,' " the artist explains in Hadar's book. "But that didn't sound right…so then I was in someone's car one day and I saw a sign that said 'merging traffic,' so I kind of combined 'mingling' and 'merging' and came up with 'mingering.' " In other words: Mike's moniker is as inscrutable—and as fake—as his career.
It's tempting to call Mingering Mike an outsider artist—surely this strange stuff belongs in, say, the Visionary Art Museum in Baltimore. But Hadar resists the term: "Mike is actually very in tune with what's going on in the world," Hadar told me. "He's content with life the way it is.…The work is playful, not delusional."
True, Mingering Mike seems far more functional than, say, the infamously introverted Henry Darger, who spent every spare moment making giant double-sided pictures of mythological creatures that looked like little girls and writing a colossal, 15,000-page novel. What Mike does share with Darger is the untrained artist's knack for finding elaborate counter-intuitive solutions to artistic problems—and, more important, some sort of belief in magic and wish fulfillment. How else to explain Mike's careful measuring of the space that each song on his unplayable records will occupy? The running times on each side of a Mingering Mike album add up correctly; longer songs take up more space, as the hand-painted grooves clearly attest. It's hard to see how this could matter—since the record won't, you know, actually produce sound. Yet it was apparently an important ritual.
Mingering Mike was very savvy at emulating the trappings of commercial records, making his own sleeves, lyric sheets—even labeling the spines of his cardboard covers. He often took the shrink wrap from store-bought LPs, complete with price tags, and slipped them over his own homemade products to make them look authentic.
But the music Mingering Mike recorded—there is apparently a pile of reel-to-reel tapes—is not nearly as realized or considered. Neither Mike nor his longtime collaborator, the Big D, could actually play instruments, so their lo-fi home-recorded tracks usually consist of beat boxing, humming, and occasional snippets of mostly improvised lyrics.
As for Mike's drawing and painting, it's scratchy, crude, and obviously untrained but packed with delicious eccentricities. His figures tend to float weightlessly against neutral backgrounds. There are no shadows in Mingering Mike's world. Clothes are rendered in simple saturated colors, often with glossy paint. Faces are reduced to contour lines to suggest features; broken brown hatchings indicate Mike's skin tone. They look like any high school kid's attempts at doodling, except for their ideas. On the sleeve for one greatest-hits collection, Mingering Mike and the Big D stand with their backs to the viewer; each looks back over his left shoulder, smiling and pouring showers of gold coins and green currency from what look to be upended top hats. "Money hasn't gone to our heads," the caption reads. "Just our hats."
What's most striking, though, is Mingering Mike's social consciousness—how many other pop stars, real or imagined, have devoted an entire album to sickle cell anemia? Inside "Getting to the Roots of All Evils," Mike draws little pictographs of the ills of street life in blue and black ink. Some are pretty funny, despite their subjects: A billy club hovers over a small head sporting a shiny, oversize cartoon lump. Needles, guns, and track marks on an outstretched forearm dot the page. The lower half of a disembodied, smiling face sits adjacent to a pile of money; written on the face's chin are the words watch out.
However contained Mike's world was during this time, his sense of the evils of the world around him appears undimmed. His hopefulness in the face of all of this seems genuine, unaffected. "Peace and power to all man kind—and me too," Mike writes on this same sleeve. Really, if being an outsider artist means being unable to function in or relate to the broader world, then Mingering Mike can't be one. His quirky humor and gentle optimism make him and his work appealing—and here, 20 years after his career ended, they're beginning to make him the star he always knew he would be.
next | previous | main menu
---